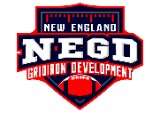 NOTE: REGISTRATION FOR THIS EVENT IS CLOSED. 
New England Gridiron Development is sponsoring a Youth 7-on-7 tournament July 11 at Londonderry High School. This event is for athletes who will be entering grades 6, 7 and 8 this fall.
This is a 10-team tournament that will use a round-robin format before the playoff round. Teams will be split into two divisions for the round-robin portion of the event. Games will be 24 minutes and high school athletes will handle the officiating.
Each team must pick a color and provide their own shirts. There is no limit regarding the number of players a team can have on its roster, and athletes do not have to be from the same school. Teams from any part of New Hampshire are welcome.
The winning team will receive 20 championship t-shirts plus a $100 gift card to Buffalo Wild Wings.
The tournament will start at 8:30 a.m. and the cost is $425 per team (less than $30 per player for a 15-player roster).
Registration is now open on the New England Gridiron Development site. The first 10 teams that sumbit payment will gain entry.
New England Gridiron Development will be offering a statewide 7-on-7 tournament at the high school level next season. If there is enough interest a statewide youth 7-on-7 made be added as well.
Coaches can email Roger Brown at [email protected] with questions and/or their team color.