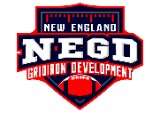 ALL REGISTRATIONS ARE NON-REFUNDABLE
New England Gridiron Development's 2023 Lineman Camp will be held June 16 from 5:30 to 8:30 p.m. at Exeter High School's varsity field.
This is a non-contact camp (no pads) designed for both offensive and defensive linemen, as well as blocking tight ends. The camp will be directed by former Bates College offensive/defensive line coach Skip Capone and is open to any player in Grades 6-12.
The cost to attend is $59, and players should wear shorts, a t-shirt and football cleats for a turf field. Please visit the NEGD Registration Page to reserve your spot.