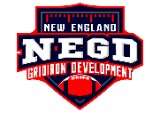 TO REGISTER:
Please fill out and SUBMIT the following form (Submit button is below waiver).
Click on the event and complete the payment process through the Stripe Payment Gateway. Stripe accepts most major credit/debit cards.
Because many of the upfront costs associated with NEGD events are based on the number of athletes who register, not the number of athletes who attend, no refunds will be issued. Thank you for your understanding. If a camp is cancelled for any reason credit will be given to a future NEGD event.
NOTE: The 2023 Lineman Camp will be held June 16 from 5:30-8:30 p.m. at Exeter High School, and is open to players in Grades 6-12. This is a non-contact camp.